{{blogList.blogTitle}}
~These comparison tests based on MSI gaming notebooks with powerful cooling system, not every notebooks could have this performance boost depends on poor cooling design~
Intel launched the latest 8th Gen mobile CPU platform in early April 2018, but most of the users did not know the big difference from 8th Gen. Platform compared to previous generations, also got confused in-between H series and U series, so here I would like to help you to clarify these CPU info, and then we could go for the real benchmark status to find out why they got big difference! We used GT75, GS65, and previous GP62 to be the test platform conditions. If you got other brand's models, the performance gap might be smaller due to lower power supply and cheaper cooling system.  
The Big Difference from CPU Cores and TDPs
When we take a look on below table, we could see that the 8th Gen Core i9 and Core i7 all comes with 6 Cores 12 Threads architecture, that means the performance boost might be able up to 40%~50% on some benchmarks because of 2 more Cores and 4 more Threads compared to Core i7 7700HQ. And when we looking at Core i5 8300H and Core i7 8500U, they all comes with 4 Cores and 8 Threads, so that means they might be able to beat i7 7700HQ CPU in some benchmarks.
The more Cores comes with more heat and higher power consumption, so when you are using the 8th Gen Core i7 or even Core i9, the working temperature boost over 95°C is a sudden is really a normal thing, because CPU boost up means higher performance demand on some programs, the fan speed boost up slower in few seconds, but that will not cause any CPU damage or performance issue, because MSI gaming notebooks comes with more heatpipes and higher level cooling design! The GT75 got the most powerful cooling system and dual 230W adaptors to drive Core i9 CPU up to 4.7GHz with matched performance and stable user experience!
* The Boost TDP was estimated from media reviews and internal tests with Intel XTU simulation. When all Cores up to highest clock, the TDP was much higher than basic TDP reference. *  
How Good are MSI Best Cooling Systems for gamers
The GS65 Stealth Thin with 4 heatpipes and triple 47 blade fans, that made this cooling model called as "Cooler Boost Trinity", the most powerful cooling system at this segment of gaming notebooks. The best ultra slim cooling solution could make GS65 Stealth Thin to have Turbo Mode with higher GPU overclock capability.
When we look at GT75 Titan, it comes with the masterpiece cooling solution called Cooler Boost Titan, 2 huge fans, 3 heatpipes for CPU and 6 for GPU and PWM that makes the GT75 Titan able to deal with over 120W or even higher possibility of CPU Boost performance with extreme overclock capability!
All the test result from Core i8950HK and Core i7 8750H was setting on SPORT Mode by MSI Dragon Center 2, so they still have the overclock capability if users set their notebooks on Turbo Mode, especially the GT75 Titan might able to OC the CPU to 4.5GHz~4.7GHz with very stable working status.
Core i9 8950HK performance boost over 86% than i7 7700HQ
Take a look on the Multi-CPU test score on CineBench R15, the professional usage tests, this test runs great on Multi-Cores of heavy loading tests, 8th Gen Core i9 8950HK got 86% faster than Core i7 7700HQ, also over 24% faster than Core i7 8750H, the performance really worth as its price range. Even the Core i5 8300H is over 13% faster than Core i7 7700HQ. Some users think that Core i7 8550U is cheaper and longer battery life, that means the performance gap is also big, only 75% of the performance at 7700HQ.
More Cores and Higher Clocks got Faster X.264 FHD Transcoding
The FHD video transcoding and editing works already become a daily works for gamers, youTubers and streamers, so I also looking forward to see what Core i9 8950HK and Core i7 8750H got great improvement on this part. I used "X264 FHD Benchmark" to test the performance gap between these 5 CPUs.
Let's take a look on the result; the six Core i9 8950HK and Core i7 8750H makes much faster video transcoding works on FPS rate, transfer to the % rate, the i9 8950HK is 74% faster than i7 7700HQ,the i7 8750H is 39% faster than i7 7700HQ, even the i5 8300H is 9% faster than i7 7700HQ.
Pure CPU Test Got Highest Performance Gap on PASS Mark
The PASS Mark is one of the CPU demanded only benchmark that could show the different CPU architecture and Core performance difference, The Intel® Core i9 8950H got 99% faster than i7 7700HQ CPU in this task, Core i7 7850H got 62% faster than i7 7700HQ, thanks to the higher clock and more Cores, so you could see that Core i5 8300H almost same performance because it's same 4C8T architecture and similar base clock.
The 3D Mark 11 Physics Scores Shows Big Difference
At last we look into the 3D Mark 11 on Physics test which represents the CPU performance capability on 3D tests which is more related to gaming performance, set MSI Dragon Center 2.0 at TURBO Mode, the Core i9 8950HK got 64% faster than Core i7 7700HQ, and Core i7 8750H got 23% faster than Core i7 7700HQ, even Core i5 8300H was 4% faster than i7 7700HQ. That means the 8th Gen Intel CPU platform really improves a lot for any kind of usage!
MSI notebook with best Cooling and power design that drives highest performance!
Not all of the notebooks with Core i9 8950HK or Core i7 8750H could get same performance boost to the top, here I want to tell you a very cruel thing, many of the notebooks that lack of good cooling design will not make the wish come true, because the Intel® Core i9 8950HK and Core i7 8750H needs much higher power consumption to get higher performance, the 45W TDP is just for based clock status, if you want to drive CPU to keep higher Boost clock for long term, the 8th Gen Core i9 and i7 CPU could easily over 60W~120W with 6 Cores full loading, that's why a set of better cooling system and higher power supply are the MUST combinations!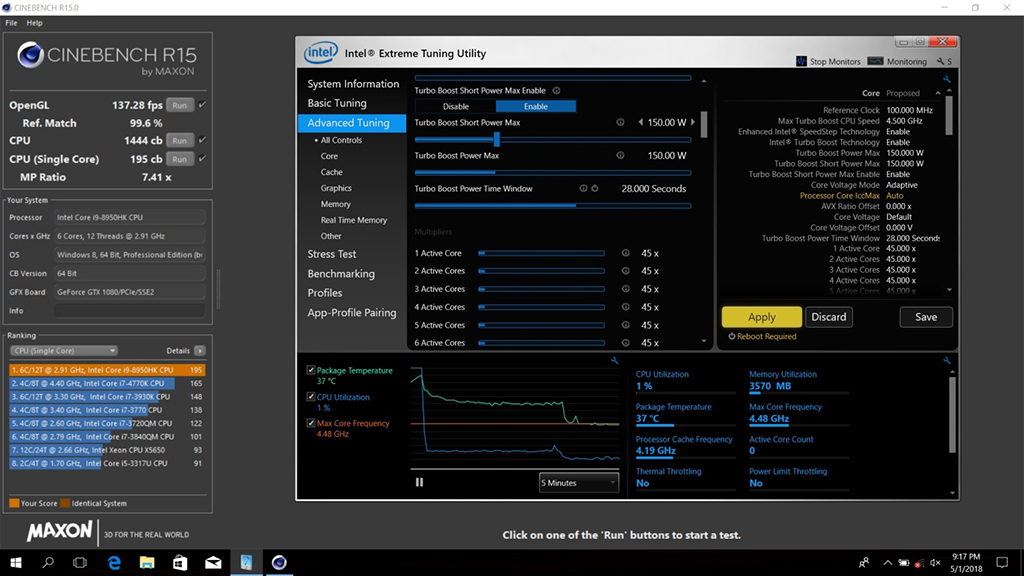 Used the Intel Extreme Tuning Utility (XTU) to adjust GT75 Titan of Core i9 8950HK with Turbo Mode, adjust the CPU TDP watts to evaluate some lower result status, let me show you the example on how the lower TDP capability and less power supply represent the lower CineBench R15 Multi-CPU scores, if the cooling system is bad or power consumption is lower, users will get much lower CPU performance than our benchmark status.
You could see that 150W TDP got 1444cb, 120W TDP got 1348cb, 90W TDP got 1250cb, 60W TDP made the i9 8950HK at 1103cb that even lower than i7 8750H on 1113cb score, so the cooling design and power consumption are both the key to impact CPU performance, the more Cores with heavy loading comes with the higher power consumption requirement! If you buy some other gaming notebooks with poor cooling design or smaller power supply, you might only get good SPEC. but bad on performance results.
The Cooling Solution and Power Supply Defined Final Performance!
The Core i9 8950HK need over 120W TDP to boost its highest performance, and the Core i7 8750H need over 60W to drive its possibility, that's why MSI notebooks always apply better cooling system with unique Cooler Boost function, gives higher watts of power supply, and more performance oriented design for gamers, it's really worth to buy a new MSI gaming notebook to replace your old notebooks anyhow, then you will feel the spectacular performance boost right away!